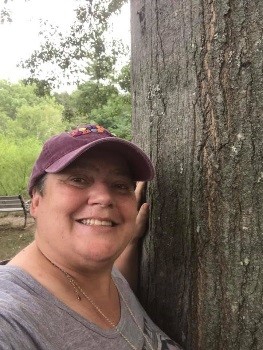 Heidi is Toivo's Wellness Facilitator, and has recently become a certified Shinrin Yoku Guide from The Mindful Tourist as of August 2021.
Heidi has always felt a deep connection with nature since early childhood. At first the great outdoors was her playground and also her safe space to run and hide. Heidi experienced many traumas, such as separation and abandonment, as well as physical, mental, emotional, and sexual abuse throughout her childhood beginning in utero. As a young child she was often told to go outside to fend for herself or she would often sneak out on her own as a way to escape the chaos of the home. Heidi played among the trees and wildlife as if they were her caretakers and protectors.
As she grew up Heidi continued to feel safest and most connected to nature, especially taking a liking to the finer details while outdoors and to the wildlife, making friends with all beings she crossed paths with. As Heidi aged she would rescue injured animals and care for them with love and kindness and with a deep understanding and connection as she knew what it was like to be injured and not have anyone to care for you. She would love them with all her heart and soul and release them once they were well enough to do so. She once formed such a bond with an injured squirrel that she had cared for, that upon release the squirrel continued to visit whenever Heidi was outside.
One of Heidi's fondest memories of her time spent out in nature was when she would create chicken noodle soup from natural objects. She would gather wood pulp as the chicken in her soup. Grass, leaves, and berries would become the vegetables. Sticks would represent the noodles. She would make a bowl from bark she had found and mix all the ingredients together. Heidi would even blow at the soup as if to cool it before eating. Heidi did try to eat this nature's version of chicken noodle soup when very hungry, but it didn't taste as good as it looked.
Little did Heidi know that she was reaping the many health benefits of being in nature starting at a very young age. There were many scientific reasons why Heidi felt the most joy and peacefulness while out in nature, not only the fact that she was escaping her abusers and turmoil in the households she resided in. Heidi has been Forest Bathing for many years, practically all her life, before she learned of the term Shinrin Yoku.
In 2015 Heidi learned of a Holistic Healing and Stress Management Wellness Center called Toivo in Hartford, Connecticut after being discharged from an Intensive Outpatient Treatment program. Her time at the Outpatient Treatment program supported her through increased Complex Post Traumatic Stress Disorder symptoms which included suicidal ideations. Heidi had never been exposed to or tried holistic healing modalities, but had always wanted to do so. Toivo is a Finnish word which translates to the English word Hope. Heidi began to rekindle hope at Toivo as she explored many practices such as yoga, Qigong, meditation, journaling, and many more holistic modalities, support groups, and workshops.
In 2017 Heidi was offered the position of Toivo's Administrative Assistant. After not working for five years Heidi was apprehensive, but took the job knowing Toivo acknowledged and accepted her as she was. Over the years Heidi has continued to grow, learn, and heal.
You may have predicted what comes next by now. Eventually Toivo offered Shinrin Yoku practices as well. Of course Heidi felt an immediate connection to Shinrin Yoku being familiar and most comfortable with her numerous experiences and connections to nature beginning in young childhood. She knew she would add training in Shinrin Yoku to her ongoing list. Heidi considers herself a forever learner and when
she was promoted to a Wellness Facilitator position in 2019 she explored many learning opportunities and became a certified Laughter Yoga instructor; an Art Therapy Guide; a Therapeutic Art Life Coach; trained in Shamanic Art and Tools for Healing and Spiritual Development; a certified Recovering Support Specialist (RSS); an Intentional Peer Support (IPS) provider; Alternatives to Suicide Support Group Facilitator (ATS/Alt2Su); trained in Compassionate Activism; the Wellness Recovery Action Plan (WRAP); Voices, Visions, and Beliefs co-facilitator; attended a Supporting Veterans Training; and more. Heidi learned about Shinrin Yoku from Deron Drum (co-founder of Toivo) and later learned of certification trainings for Shinrin Yoku. She knew she would one day add this certification to her knowledge base and would do so in honor and memory of Deron who had since passed away sadly.
As the years passed and the pandemic of 2020 continued Heidi was also diagnosed with breast cancer. As a distraction to both the pandemic and breast cancer treatments Heidi searched for training ideas. Her interest in Shinrin Yoku had grown and she discovered The Mindful Tourist training offering of their Level 1 Shinrin Yoku Guide certification program. Heidi immediately applied and was accepted. She gained so much more than just a distraction to the ongoing pandemic and medical treatments. She gained a deeper understanding of what she had been experiencing outdoors since young childhood. The freedom, independence, comfort and security she felt among the trees had so much more scientific reasoning then she had ever been aware of before. She not only gained knowledge, but also awareness that in nature she was welcomed to embrace her authentic self and she also built and strengthened her confidence as a Shinrin Yoku Guide.
Heidi's natural innate connection to nature and her recent certification has led her to opportunities to share with those who join her in the great outdoors in a whole new way. Heidi's new found knowledge on Shinrin Yoku has deepened her connection to nature. She looks forward to sharing her story, her experiences, and her new knowledge with all who are called to join her for her offerings of a shared Shinrin Yoku practice. Please visit www.toivocenter.org if called to do so and click on calendar to see all of Toivo's offerings including Heidi's Shinrin Yoku monthly offerings starting in October.
Heidi is indeed one with nature, and nature is one with her as well.