Meet Torry!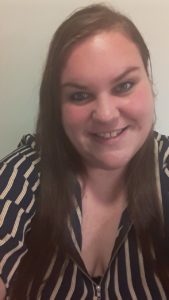 My name is Torry Bernard and I am the administrative assistant at Advocacy Unlimited. I have worked at AU for over four years and have had the pleasure of getting to know so many of my peers.
I knew that I wanted to work with peers for a long time. I grew up in the Foster Care System which started me to confide in my peers at a young age. For most of my teenage years, I participated in educating social workers, lawyers, and foster parents the importance of connection for foster children. Later on in life, I found myself feeling the same way about mental health. I wanted to connect and inspire other young people to lead their own recovery, however that may look like for themselves. I helped create the first Statewide Young Adult Warmline in CT through Join Rise Be. Watching this grow into a support system for so many people was truly remarkable and made me realize that my passion is to help others believe they can be successful in their lives.
I am trained in Intentional Peer Support, I am a Recovery Support Specialists and continue to advocate for foster children and educate the public on their rights as children in the system. Resilience is a word I use often in my life. I believe that the word resilient describes me and my recovery journey. Working at Advocacy Unlimited has given me a reason to get up every day and help others believe in themselves. We all have days where we want to give up, and I know if someone told me their life experiences and the things they went through, it would have made it much easier for me to believe that I was going to be okay. One of my biggest accomplishments is that I published a quote in the book called "Listen" which is about foster care.
"9 counselors, 7 homes, 5 social workers, 4 schools later… I still knew that someway, somehow, I would grow from all of this. And I did. No matter how hard the storm hits, it ends. You can choose to look at the damage and stay stuck- of you can pick yourself up and find a way to grow from the experiences. Resilience is a powerful thing."